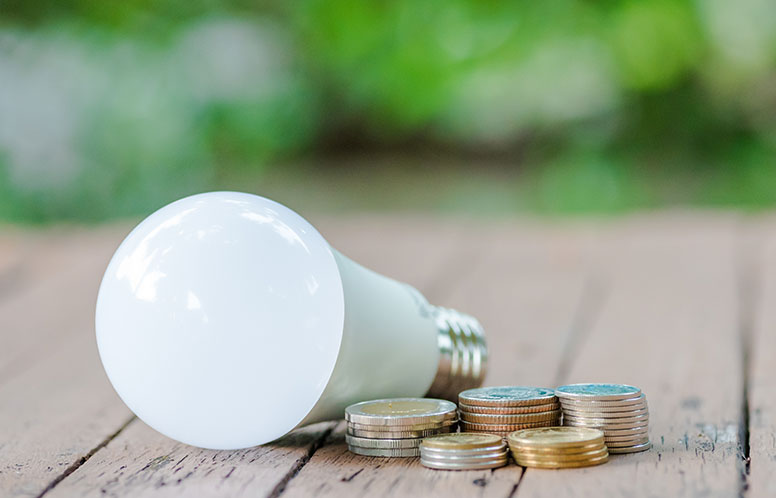 Do outdoor lights use a lot of electricity?
Use our electricity cost calculator to find out
There is understandably a lot of concern about whether outdoor lights use a lot of electricity, given the fluctuation (generally upwards) in electricity prices. Outdoor and garden lights can help to transform front and back gardens and outdoor spaces, creating a positive, uplifting ambience. That said, no one wants this to be offset by costly utility bills. Thankfully, LED garden lights are surprisingly inexpensive to run, often costing just a few pennies a month even with frequent use. Keep reading for the details and to use our handy electricity cost calculator.
Electricity Cost Calculator
To calculate the cost per day and per month for your garden lights, simply input the wattage for the lights, hours of usage and cost per kWh (the default value of 27.35p per kWh* is the average unit price based upon the October 2023 energy price cap). If you don't know the wattage, don't worry, we aim to provide this information in the specification table on the product page for as many of our lights as possible. We've also given a few representative examples down below along with some comparisons with other electrical appliances.
| Product Type | Product Wattage (W) | Avg. Hours of Use | Daily Cost* | Monthly Cost* |
| --- | --- | --- | --- | --- |
| 5m ConnectGo® Festoon Lights, 200 LEDs | 3.1W | 6 | 51p | 15.47p (£0.15) |
| 5m ConnectPro® Festoon Lights, 60 LEDs | 3.5W | 6 | 0.57p | 17.47p (£0.17) |
| Washing Maching | 2100W | 0.5 | 28.72p | 873.49p (£8.73) |
| Electric Kettle | 3000W | 0.2 (12 mins) | 16.41p | 499.14p (£4.99) |
Outdoor/garden lighting displays and how much they cost to run
Let's take a look at some examples of displays and how much they might cost to run. Outdoor lights are used for 6-hours a night in the UK on average, so we're using that to base our calculations on.
9m ConnectPro Cut-to-length Rope Light, 20m ConnectGo Large Festoon Lights and 5m ConnectGo LED Firefly Lights
This modest display features an expanse of LED rope light wrapped around the tree trunk as well as the relatively energy efficient ConnectGo Festoon Lights and ConnectGo Firefly Lights. The cost to run this is just 6p a day or £1.69 a month*. If you wanted to bring that cost down even further, consider substituting the rope light - which accounts for £1.03 of this monthly energy cost - for more firefly or fairy lights.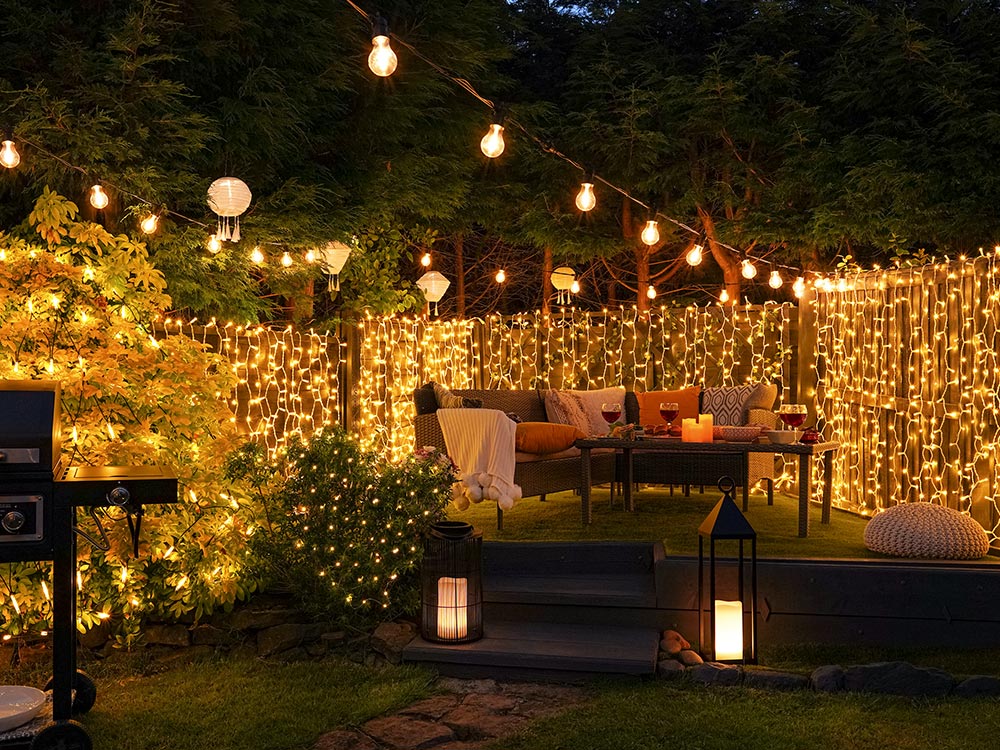 6 x 2m ConnectPro Curtain Lights, 2 x 2m ConnectPro Net Lights, 30m ConnectPro Festoon Lights and 5m ConnectGo LED Firefly Lights
If you really want to push the boat out with your garden display this year, then a comprehensive display like this one featuring a signficant number of festoons, fairy lights, curtains and net lights will only cost 24p a day or £7.20 a month*.
*Calculated using the energy price cap (October 2023) average electricity unit rate of 27.35 pence per kWh. Price information from Money Saving Expert. Rates may vary by region, payment method and meter type.
Frequently asked questions about the cost of running outdoor lights
Q:

Do outdoor lights use a lot of electricity?

A:

In a word, no. Outdoor lights nowadays use LEDs rather than filament bulbs which are less energy efficient. The running costs for these are negligible and to power even a reasonably large outdoor display of LED garden lights for an entire month is likely to cost less than an average fast food meal.

Q:

Are LED garden lights energy efficient?

A:

Whilst they are generally very cheap to run, decorative garden lights would not be considered energy efficient if we were to refer to the standard EPC rating (which isn't really applicable). That's because that system is designed to take into consideration the brightness of the lights, as well as the energy required to produce that light. Decorative lights, by their nature, are designed to produce ambient rather than practical light, so it isn't fair to judge them in the same way we would a lightbulb, for example.

Q:

How much do outdoor lights cost to run?

A:

The exact cost will vary depending on how many lights you have, the wattage of the lights, how long they are left on for, and the unit cost of electricity. Generally though, for the average garden display, you're likely looking at less than a couple of pounds in electricity per month, even at recent high rates.

Q:

Do outdoor lights use a lot of electricity?

A:

It really does depend on the specific lights in question, but to provide an example: 10m ConnectPro Outdoor LED String Lights, considered by many to be the best commerial grade outdoor fairy lights on the market in the UK, use just 3.5W which translates to 0.021kWh per day, assuming 6 hours of continuous use. Low voltage lights, such as 10m ConnectGo Outdoor LED Fairy Lights, use even less at 0.68W translating to 0.00408kWh per day.