Are Christmas lights expensive to run?
Use our energy calculator to find out
How many times have you walked past that house at the end of the road at Christmas that's decked to the nines in lights and thought, 'Wow, it's beautiful, but… how much is their electricity bill?' With rising electricity prices, it's only natural to wonder if fairy lights, as pretty as they are, are going to cost you a small fortune. The answer, thankfully, is a resounding no. Read on for specific examples based on the current and forecasted electricity prices in the UK, or use our handy Christmas lights cost calculator to see exactly how much your Christmas lights will cost to run.
Festive Lights Christmas Lights Cost Calculator
Enter the wattage for the lights, hours of usage and cost per kWh (we've pre-populated this with the average unit price based upon the October 2023 energy price cap, which is 27.35p per kWh*) and the Christmas Lights Cost Calculator will tell you the cost per day and month for using those lights. We know that most people don't know what wattage their products output, so we've provided some representative examples down below along with some interesting comparisons. We're also committed to providing this information in the product specification of all our connectable lights.
| Product Type | Product Wattage (W) | Avg. Hours of Use | Daily Cost* | Monthly Cost* |
| --- | --- | --- | --- | --- |
| ConnectGo 5m Outdoor LED Fairy Lights | 0.68W | 6 | 0.11p | 3.39p (£0.03) |
| ConnectPro 5m Outdoor LED String Lights | 3.5W | 6 | 0.57p | 17.47p (£0.22) |
| 50" LCD TV | 150W | 6 | 24.62p | 748.71p (£7.49) |
| Electric Kettle | 3000W | 0.2 (12 mins) | 16.41p | 499.14p (£4.99) |
Christmas display examples and how much they cost to run
Let's take a look at some examples of displays and how much they might cost to run. Outdoor Christmas lights are used for 6-hours a night in the UK on average, so we're using that to base our calculations on.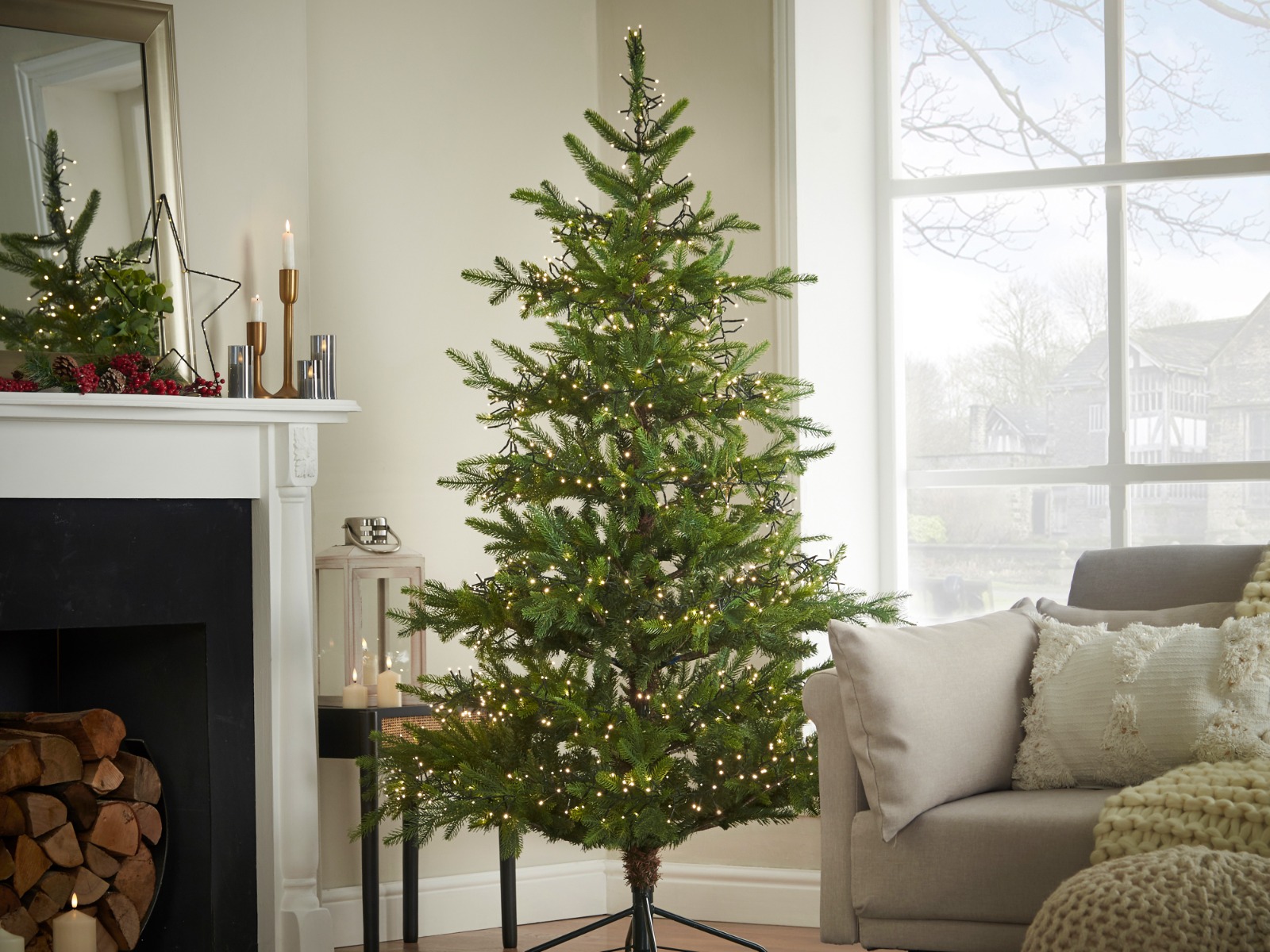 20m ConnectGo LED Cluster Lights, 1500 LEDs
Should you illuminate your Christmas tree (indoors or outdoors) with 20m of our ConnectGo cluster lights, these 4.2w lights could cost you a grand total of... 3.45p per day or £1.05 for an entire month*, based on 6-hours use per day.
Don't call your opticians just yet; you read that right. That's less than 1p per connectable 4m set, per day.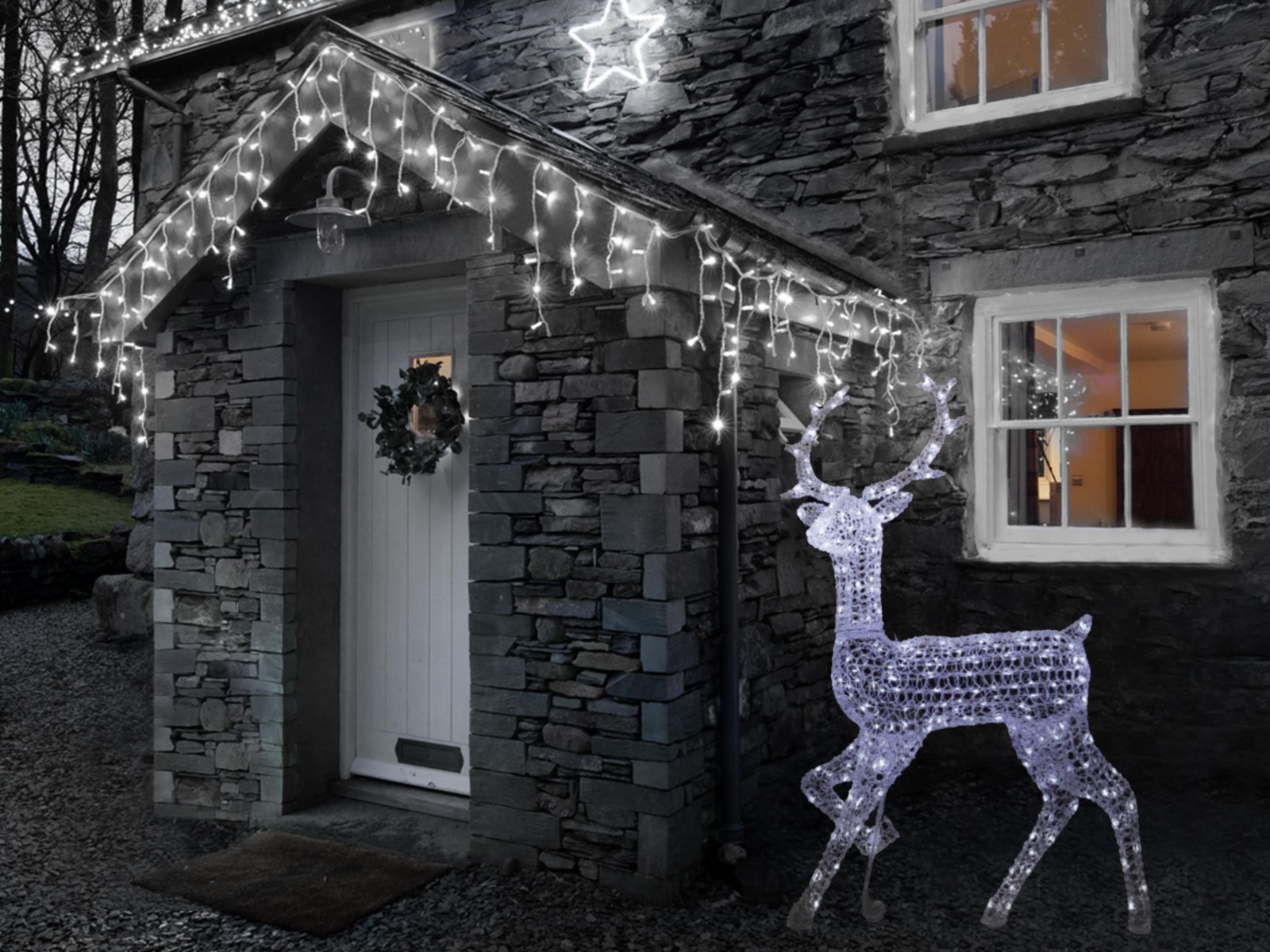 5m ConnectGo Icicle Lights and a 1.4m ConnectGo Reindeer
ConnectGo icicle lights are a Christmas staple, guaranteed to spread the festive cheer to all your family and friends. Combined with a glowing ConnectGo reindeer figure, these will transform your home from the mundane to the magical.
To run this display from top to mistle-toe for the full 31 days in December, from 5pm-11pm at night will cost you a grand total of… 31p for the whole of December!* That's 14p for 5 metres of our 2.73 watt icicle lights and 17p for this stunning 3.5 watt rattan Reindeer. Watt's not to like!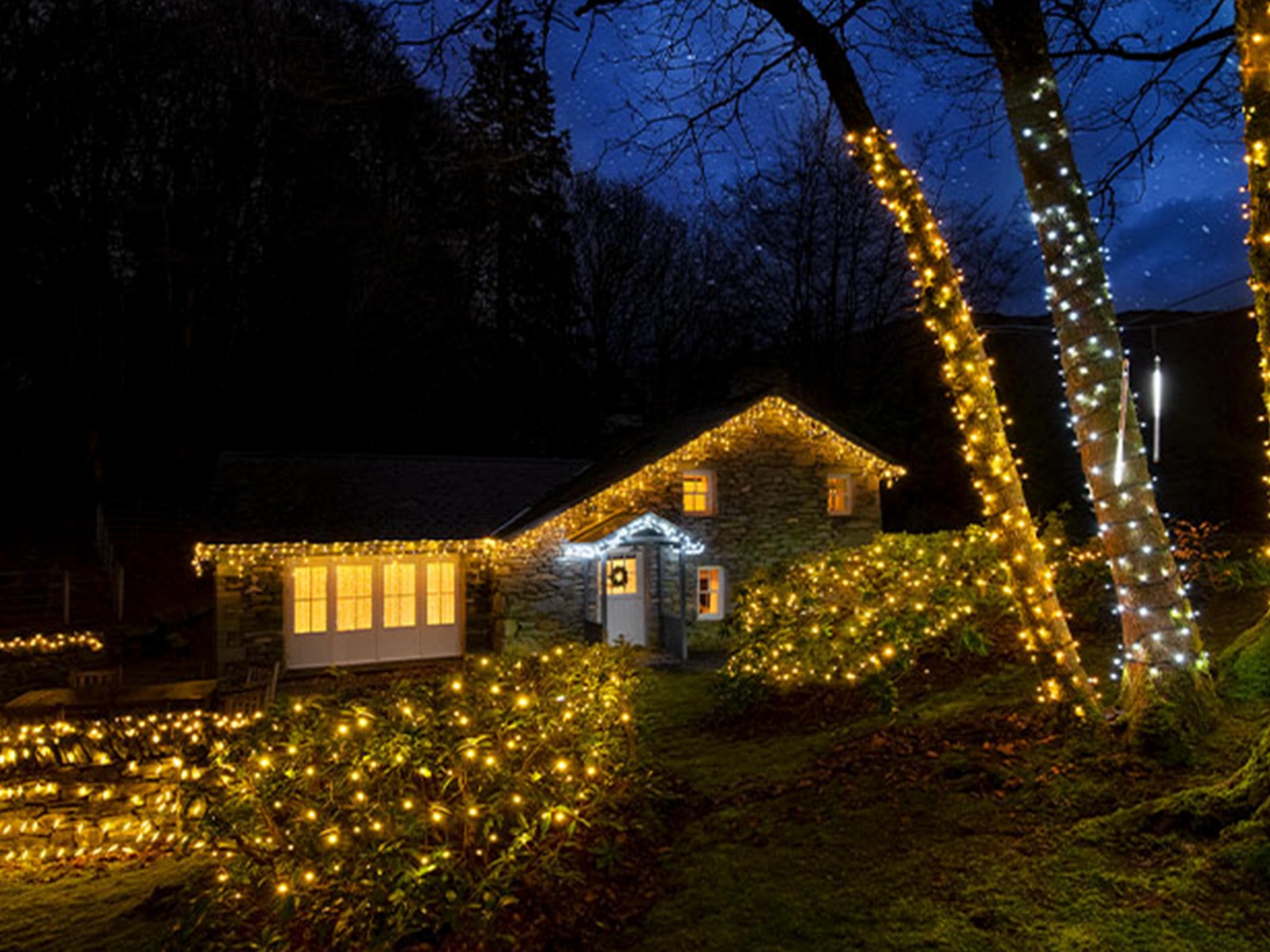 8m x 2m ConnectPro Net Lights, 20m ConnectPro String Lights, 4m ConnectGo Cluster Lights and 20m ConnectGo Icicle Lights
Should you really push the boat out this year, running this entire display 6-hours-a-day for the month would cost you just £4.95*.
That's £3.49 for the net lights, 70p for 20m worth of string lights, 21p for the cluster lights and 55p for 20m of low voltage icicle lights.
*Calculated using the energy price guarantee (October 2023) average electricity unit rate of 27.35 pence per kWh. Price information from Money Saving Expert. Rates may vary by region, payment method and meter type.
Frequently asked questions about the cost of running Christmas lights
Q:

Are Christmas lights expensive to run?

A:

The short answer to this is no. Modern Christmas lights use LEDs rather than filament bulbs which are less energy efficient, and even a fairly comprehensive outdoor Christmas lights display is likely to cost less than the cost of a burger and fries to power for an entire month.

Q:

Are Christmas lights energy efficient?

A:

This is slightly more complicated to answer than you might think, as decorative lights are not subject to the standard EPC rating. That's designed to consider the brightness of the lights versus the energy required to produce that light. As decorative lights, by their nature, are designed to produce ambient rather than practical light, it wouldn't be fair to judge them in the same way we would a lightbulb, for example. As they aren't meant to be especially bright though, they do tend to use relatively little electricity.

Q:

How much do Christmas lights cost to run?

A:

The exact cost depends on the wattage of the lights, how long you're using them for and the cost per unit of electricity, but for a somewhat typical Christmas lights display in the UK, you're likely looking at less than a couple of pounds in electricity costs to run for all of December.

Q:

Do Christmas lights use a lot of electricity?

A:

This varies dependant on the manufacturer but generally speaking Christmas lights do not use much electricity. As an example, 10m ConnectPro Outdoor LED String Lights, considered by many to be the best Christmas lights on the market in the UK, use just 3.5W which translates to 0.021kWh per day, assuming 6 hours of continuous use. Low voltage lights, such as 10m ConnectGo Outdoor LED Fairy Lights, use even less at 0.68W translating to 0.00408kWh per day.

Q:

Why are Christmas lights called fairy lights?

A:

'Christmas lights' and 'fairy lights' are often used interchangeably. The term 'fairy lights' was born in 1882 when dancers (fairies) in the production 'Iolanthe' at the Savoy Theatre in London wore dresses and coronets that had lights sewn into them. These were crafted by Joseph Swan, although it was a colleague of his rival Thomas Edison that first placed fairy lights on a Christmas tree a year later as a publicity stunt. The tradition has held to this day.